Blinkist Review 2019 Update: Is Blinkist Worth It? + Everything About Blinkist
What Is Blinkist?
Before I give Blinkist Review, I would first clear, What is Blinkist?  Do you love reading books, but you don't have time, because of your busy work schedule? You want to read your favorite book, but think it's just too long and will take forever to read it. Hence you sadly forget about reading that book or keep that book back on the shelf. But Now you don't need to be Sad or don't need to keep that book back to your shelf. There's an app called Blinkist which will help you to read your favorite book and don't need much time to Read it. It will take 15 minutes to complete your favorite book.
Why Blinkist?
The number of newly published books daily is growing rapidly. Published books growth is so rapid that some even call it "Books Explosion". There is an entry on Wikipedia that lists countries according to books published per year. The list is based on data from UNESCO. The organization managed to collect figures from 123 countries. The latest available numbers total to approximately 2.2 million books published per year. With thousands of fresh titles being written every year.
Then How To Read Books Faster Using Blinkist?
To solve this issue is where Blinkist comes. Blinkist app offers easy-to-digest versions of popular books. It helps you to better navigate the ever-expanding ocean of human knowledge and wisdom – thus becoming a better human yourself. But before using Blinkist app, you have to Signup to Blinkist. Blinkist gives 7-Days FREE trial so that you can decide that whether it's worth it or not.
More Details About Blinkist:
The Gist Of Blinkist app: Blinkist team reads books, pulls out the key insights, and explains them in an easy-to-digest, 15-minute book summary. Each key insight is called a blink and fits nicely on one page. With the Free Version of the app, you can only read the daily pick, It's one out of their 2,500+ book summaries, and it changes every day.
Blinkist is a non-fiction book summary service. there are thousands of books abstracts or blinks in the Blinkist library, new titles are added daily. Each Blink is Structured such a way that it can be read or listen in just 15 minutes.
The Blink is subdivided into sections for better understanding. The Very First part is an introduction. It Gives the gist of what exactly the book is about and what's there in the book for readers, and it ends with the book's key points and also gives actionable advice.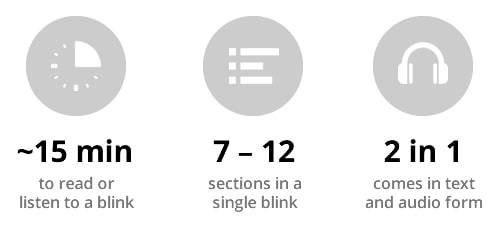 Blinkist makes sure that the knowledge is available for everyone in any situations. Hence Blinkist App has several ways to access, via a browser-based online service, a mobile app, in audio format, or even a direct Kindle link.
Blinkist Mobile App:
The most common use of an app not only Blinkist is on Mobile phones. People usually download every useful app on phones, because Mobiles are carried almost everywhere. You can use Blinkist app anywhere, whether you are at home or at the workplace or in a coffee shop. It's easy to use features will make you gain knowledge almost in every situation.
Blinkist App is available For IOS and Android Version. But as I say earlier you have to Free Signup into Blinklist before using it.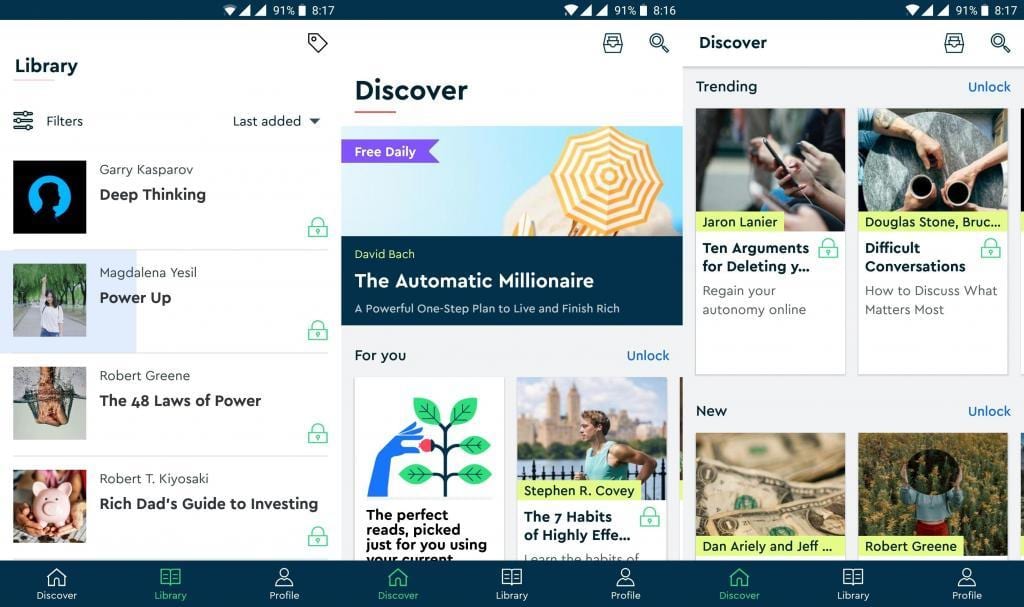 The Blinkist app is subdivided into Three parts:
1) Discover
2) Library
4) Profile
1) Discover
Under discover page there is an option given for the search, so you can search your personal favorite books.
There is a Discover Tab Under which few Options will be given:
Your Daily Pick: Here You will get daily blink recommendation
For You: Here they will suggest books as per your likes and interest.
Curated List: Books suggested by Experts.
Trending: Means books which are in trending.
2) Library:
The most useful of them is the Library, which lists the Blinks you've saved into your personal collection.
There are Filters under Library section which allows showing and hiding the blinks according to their state (not started, in progress, finished). You can adjust your filters either In Alphabetical order or In Opened Order or in Progress order or in Added order. There is also a feature under library section known as Tags.
With the reading progress being conveniently hinted by a subtly colored background bar on each item. Ones you start reading any Blink and because of any work, you stop, Blinkist app will keep you updated till where you have completed and how much is left. There will be reading progress shown conveniently and subtly in your background.
3. Profile
Profile section has two options:
Favorites & Highlight: You can save your favorite books and can save the part which you have highlighted while reading.
Settings: At the Top of the Profile section, there is SETTING ICON, From where you can change your app settings
Blinkist Reading Interface:
The most app has so many ads and other irritating stuff in their reading interface. This irritation and distraction are clearly focused by Blinkist Team. The reading interface is minimalist and distraction-free: the only buttons visible are "back", "audio", and "text size", and even they can be hidden by simply tapping the main text.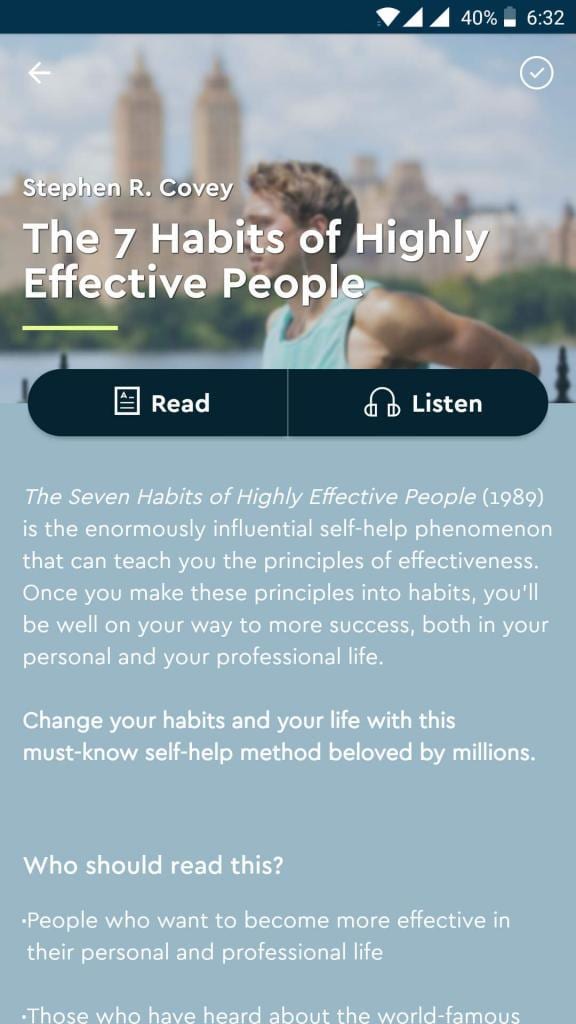 Swiping right or left flips the page, and the green progress bar at the bottom of the screen unobtrusively indicates the current position in the blink.
While Reading any Blink, you can highlight your favorite point or chapter. You can share and can copy your favorite part. The highlight Part will get saved Under Profile section.
Reading Interface also has the option to Read Blink in an Outline form, and can also change the font size and also Auto-brightness Feature.
Blinkist Audio Feature:
One of the very important and useful features of the Blinkist app is the Audio Version of Blinks. Audio Version allows you to which allow ingesting them while keeping your eyes and your headphone for other activities – ideal for walking, commuting, jogging, hiking, etc.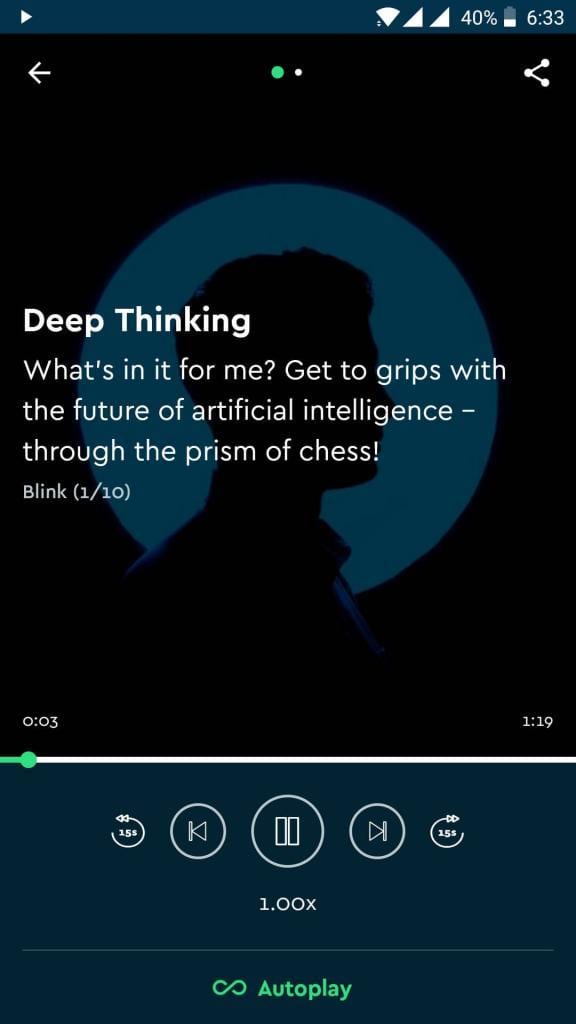 There's a very simple procedure of downloading audiobooks to your internal storage. You just need to click the icon with earphones and a down arrow next to a blink in your library to download the audio version. You can listen to blinks when you are offline. It's quite useful while you are traveling.
It should be noted that the audio is not included in the free version of Blinkist, i.e. it is only available in the Premium subscription plan – more on that later.
Blinkist Web?
You are asked to Create Blinkist Account. Once you created an account with Blinkist, you get an access to an online profile which contains –  Personal Library which allows you to listen or read Blinks from your desktop, laptop or mobile browser. There are Two different tabs in Library which shows ongoing and Finished reading.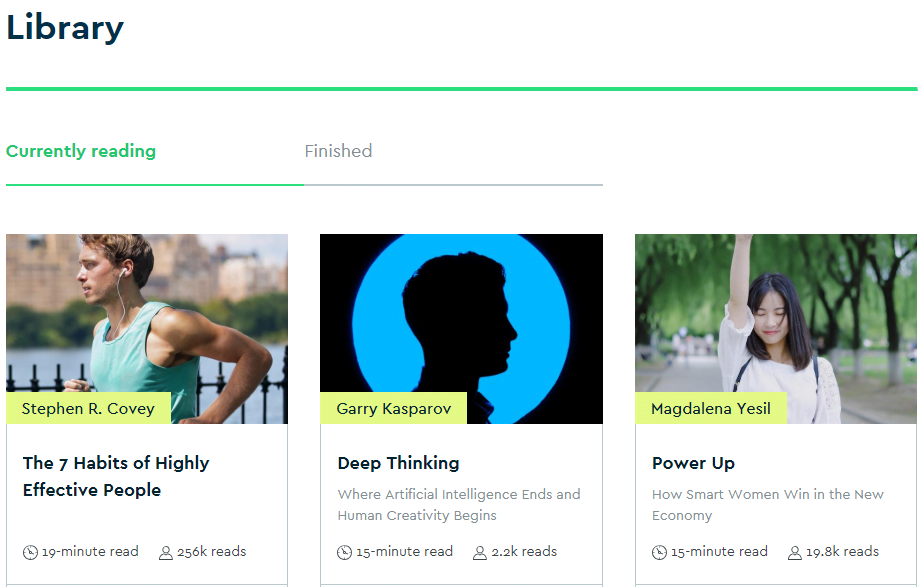 Just like the Blinkist App, The In-browser interface is also designed in a minimalist style, with every detail aimed at contributing to a distraction-free reading experience.
The entire menu has been removed in favor of three buttons: the Home button (leads back to your library), the Contents button (opens a slide-in overlay with the structure of the current blink, as well as the font size control). Not much, but in reality, that's all you need to focus entirely on the abstract at hand.
Is Blinkist Synchronized Across All Platforms?
Yes, The web service is synchronized automatically with the Blinkist mobile app and vice versa. This synchronization feature allows you to seamlessly continue reading across all your devices.
Blinkist Pricing / Cost :
Blinkist has only two paid options which are the Plus annual plan and Premium annual plan. $50 or $80 a year. The cheaper plan of Blinkist is only $4 a month or 13 cents for a day which is an affordable price.
Blinkist Plans Chart: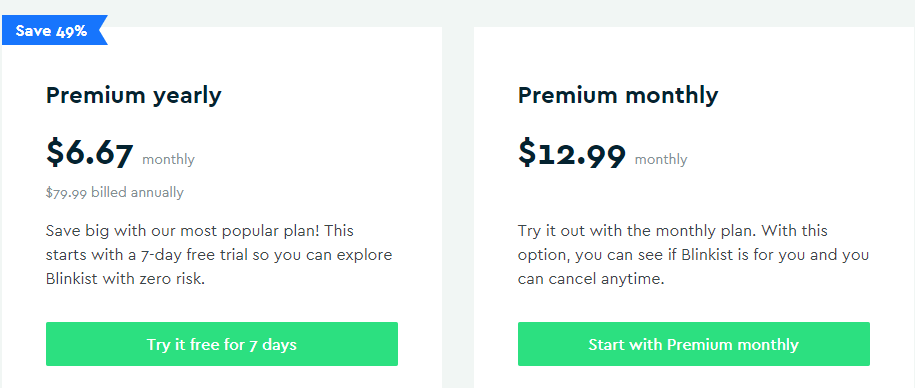 Blinkist Alternative / Competitors:
Blinkist offers more attractive prices compared to its major competitors. You can Compare Blinkist Prices with some of its Major competitors such as getAbstract, Instaread, Joosr, 12min, Soundview.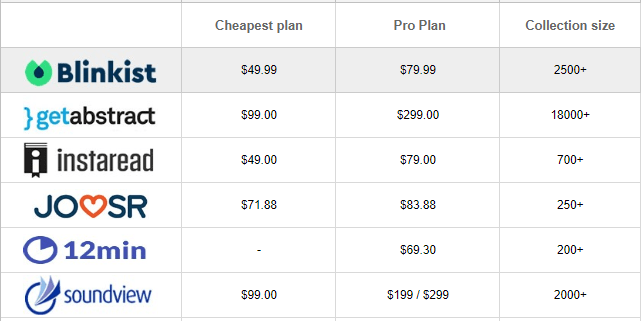 As you can see on above data that Blinkist has very attractive pricing compared to its major competitors with the large collection size. There also times come where Blinkist will provide a discount, promo codes, and concessions.
Is Blinkist Worth It?
This is the most common question asked and faced by many new users,  $79.99/year, the annual payment translates into $6.67/month – which is roughly equivalent to 1-2 cups (depending on where you live) of takeaway coffee from your favorite coffee shop chain; not a high price to pay for access to knowledge which you will gain through Blinkist.
Here are some Key Features of Blinkist which will help you to decide whether you subscribe to Blinkist or not:
1) Easy To Understand:
If You Are A Busy Person, then Blinkist is a nice option. It Gives you your favorite book option and you can read it in your Favorite Device. Can Read The Book in just 15 minutes, because Blinkist Team Read Books and pull out the key insights and explain them in easy-to-digest words. Blinkist Team makes entire book available for you in just 15 Minutes. They present the book summary in a very easy way so that readers can understand each point clearly.
2) Improve Your Learning Skill:
You like to improve on a daily basis, you like to learn on a regular basis, then Blinkist is just right for you because it helps you to improve as a person and as a professional worker. Blinkist is time-consuming and make your driving and traveling joyful. Blinkist Also has Audio Option, the audio function is totally worth it alone. I can now cook, mow the lawn, do the dishes while listening to an audio summary of a good book.
3) Interesting Features:
The interface graphics are beautifully designed and intuitive, making it a joy to use Blinkist every time. Blinkist app provides books of your interest and gives an option of browsing through the themed books list, curated by an industry expert. Blinkist also gives an option of storing what you read by far so that you can have tracked on what you have learned. Blinkist Provides Free Trial only after that they will charge.
4) Pricing
They have over 2500+ book summaries with 40+ new ones every month. They have pricing options: Free trial, Plus, and Premium. The price is actually pretty good. $49 to $79 / year.
Blinklist is a subscription-based service. Registered users get a free seven-day trial period, and an unlimited subscription costs $4.99 per month or $49.99 yearly. Blinklist says that more than 20 new books are added each month. The Blinkist iPhone app & Android app is free and provides the same free trial and subscription rate.
5) Other Benefits
As of April 2018, Blinkist Premium is available as a monthly or annual plan. The monthly plan costs $12.99 while the annual plan gives you 50% off. As such, it pays for itself within 6 months.
For $79.99 per year (or $6.67 per month), you'll get access to their entire library of 2,500+ summaries, which is growing at 40 books per month. Other features include highlighting and offline reading, audio versions for over 80% of the summaries, syncing your highlights to Evernote and sending book summaries straight to your Kindle. All prices are equal in € if you're in Europe.
6) Cancellation
Blinkist also gives you an option of canceling your subscription and also can cancel your Free Trial.
How to Cancel Blinkist Subscription:
a. Select 'Account'.
b. Click on 'Subscriptions'.
c. Locate the Blinkist subscription & click on 'Cancel'.
d. Confirm the cancellation by selecting 'Cancel subscription'.
How to Cancel Blinkist Free Trial:
If you don't cancel your trial subscription, the system will automatically bill you for the monthly or yearly subscription chosen when you started the trial. Here are the steps to cancel it.
a. Go to your Subscription & Billing tab on your Account page.
b. Click Manage your subscription.
c. Click Cancel.
d. Click on Confirm Cancellation.
Blinkist App is Available for Android and iPhone (Hence subscription cancellation process can differ in different devices)
7) Usage
There is a Blinkist web app available for the desktop, but however, Blinkist is really meant to be used on the go and ideal if you just can't find enough time to read. The app is available for both iPhone and Android. You can sign up using Facebook or email.
Blinklist Pros And Cons:
Everything has two sides, therefore, there are certain Pros as well as Cons Of Blinkist.
Blinkist Pros:
1) Access to condensed summaries of the best non-fiction books gives the opportunity to absorb maximum knowledge and wisdom, flexibly and quickly.
2) Blinks are subdivided into logical sections and feature short summaries ("a blink of a blink") for maximum comprehension.
3) Web interface as well as mobile apps for both Android and iOS devices. Possibility to sync the personal blink library into a Kindle.
4)The audio version of the content allows for distraction-free absorption of the abstracts while reducing eye strain.
Blinkist Cons:
1) While using the mobile app, the library might sometimes need to be refreshed manually (by holding and pulling down on the screen) to stay current with the blinks added from the web interface.
2) Audio can freeze on rare occasions when transitioning from one part of a blink to the next, observed during poor connectivity of the host device.
3) It is not yet possible to recommend the blinks you read to other people who use Blinkist directly from within the app (need to share a link instead).
Over To You:
Reading entire book is very beneficial, but If you are a busy person and have no time for Improving yourself and for learning then Blinkist can be the best option for you. It will improve you and your knowledge on a regular basis because something is better than nothing.
Affiliate Disclosure: We want to tell you that some of our links in the article are affiliate links. Which means if you signup with our link then will get small from your purchase and you don't need to pay any extra amount. If you find this articls helpful, we encourage you to use our Blinkist Affiliate Link to Signup.
Thank You.