Ego Is The Enemy Summary By Ryan Holiday
ABOUT THE BOOK:
Blog Title: Ego Is The Enemy Summary By Ryan Holiday
Name: Ego Is The Enemy
Author: Ryan Holiday
Download Ego Is The Enemy at: Audible
Buy Ego Is The Enemy at: Amazon
Buy Ego Is The Enemy at: Flipkart
Book size: 256 pages
Overview: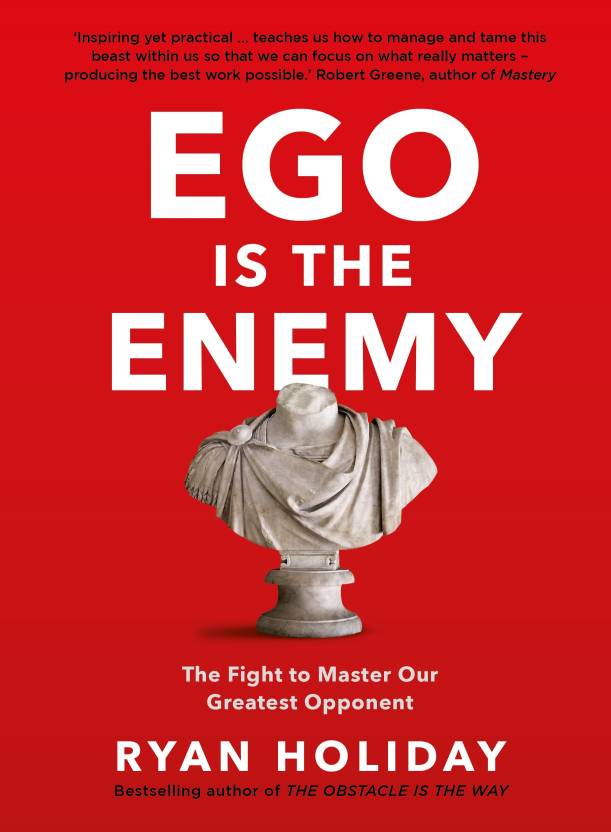 Before talking about the book Ego Is the enemy, Let's first discuss the author Ryan holiday. He is an American author, marketer and entrepreneur. He is also a media strategist and the former director of marketing for American Apparel and a media columnist and Editor-at-large for the New York, Holiday has written several books and has written for Forbes, fast company, the Huffington Post, the Columbia Journalism Review, The Guardian, Thought catalog and many more, his some of the best -selling books are The obstacle is the way, Growth hacker marketing and trust me, I am lying and co-wrote the Daily stoic with Stephen Hansel man.
In Ego Is The Enemy Summary, Author Ryan talk about the negative aspects of the ego and its effects on several historical and contemporary figures, Author says that Ego is unhealthy belief in our own importance, Ego stops us pursuing our journey and stops our growth, in this book author says that we can do lot about handling this ego and can also overcome it in many ways, and also talks about how we can achieve our true greatness.
Author says that every individual in this world has an ego, and having ego not serve us on our interest in fact ego block our way to success, In this book author says that having a bad ego is bad for health and what all strategies we can use to overcome this big ego problem.
Let's begin with Ego Is The Enemy Summary:
Part 1 of Ego Is The Enemy Summary
What is Ego?
There are many definitions regarding what is ego, but one of the definitions used by Ryan Holiday is "EGO IS AN UNHEALTHY BELIEF IN OUR OWN IMPORTANCE.ARROGANCE.SELF-CENTERED AMBITION."
Here author says that we all know that ego is something mostly negative, we all have ego In us and hence it becomes our responsibility to always keep a check on it, in this book author speaks about how ego force can shape our lives for good and for the bad,  in this book author look for historical figures and contemporary personalities and their relationship with their ego and how that ego affected their outcome in life.
This book is divided into 3 parts, in these parts author characterizes three possible phases of our lives which can get affected by ego and that ego can go out of control and can also distract us from our path.
Those three phases of our life is;
ASPIRE: It means want to accomplish bigger and better goals.
Success: Means achieving our goals and receiving public response
Failure: Means falling from grace and dealing with internal resistance.
Author Ryan has explained each of these phases properly and very nicely, he taught us that how we people can think about our goals in right manner, and also teaches the right approach to relationships with others and ourselves, and also explains to us that how we people can stay humble and we can handle and deal with our failure nicely and properly and has explained many other things.
Author has differentiated between ego and aspiration
The author says that people who have ego, not aspiration they like to talk they don't like to act, too much talking, not enough work.
The ego believes that they know everything whereas aspiration knows that learning goes on and on.
Ego never helps others,  ego always wants perks that come from being famous or rich, ego never takes the right action to reach that goal.
Author has differentiated success failure with ego, to have a proper understanding of this chapter to buy this book from the given link.
Part 2 of Ego Is The Enemy Summary
The Canvas Strategy
In this chapter author talks about the canvas strategy, through this author want us to understand that we people should move from the short-term satisfaction which comes from resentment and we, people, should embrace the long-term self-development, in this canvas strategy author says that we people should work on our self-development because it will give long-term satisfaction and ego.
And the author has also shared few strategies in order to follow canvas strategy, the author said before you start doing any work do follow this idea in mind.
Before starting any work you must think in your mind that you are not as good or important as you believe you are, an author wants us to think this because this will keep us humble and polite with our work.

Think that you do not know everything you need to gain more knowledge than your education gave you.
The author says your success may come along with the success of others hence you should work the way that your work makes other works easier at the start of work you can feel as if you are obeying someone without questioning them but that will for sure help you to learn new things and help you to gain knowledge.
In this chapter author want us to think ourselves as stoic ancient, stoic ancient used to think themselves as a student of life, they used to dedicate their life towards leaning, this used to keep them humble, polite and dedicated and also encourages us to learn from the best in your field.
There is a saying "it is impossible for a man to learn that, which he thinks he already knows." –Epictetus
Part 3 of Ego Is The Enemy Summary
Narratives
In this part author says to take action, the author says that we should stop talking and start doing, many people like to talk but fail to take actions, Author says that talking takes away all your energy which you would have utilized towards doing your work.
In this chapter author speaks about delegate tasks to learn to trust people, many a times in our own ego we fail to understand the capability of others, many a times we think that we are the best at certain things and no one can do better than us and this thinking not only inflates our own ego but it also takes away our opportunity to build trust with the people you work with.
In this lesson author want us to understand that trust is really very important in every aspect of our lives and ego can take away this opportunity of trusting others,  for example, author says that trust increases the speed of everything in a business, the more employees trust each other the more and faster things will get done, when you give your work to others then doing this will force you to do two things,
First you will respect others and their work and second, you will gain the trust that they can get your job done. And these things will help you to win against your ego.
Ego Is The Enemy Summary Narratives Subpart: Accept Failures
Take your unexpected results as inflection points to keep improving,  Author says that our ego likes to blow everything out of proportion whether the thing is bad or good, Ego can spoil or can ruin both times good and bad, sometimes we get result much better than we have expected or sometimes we get outcome worse which we haven't expected and this both thing gets ruin by our ego,
When you do anything bad or wrong, instead of accepting your ego influence you to blame others, you start removing other faults, and if you do anything well, then your ego influence you and make your feel arrogant tells you that you have got that success only because of you and you deserve every ounce of credit, and this kind of ego influence ruins both time good as well as bad,
Hence author says instead of behaving such way, you have another way too, you must use every unexpected result or outcome whether good or bad as an inflection point so that it always help you to improve in your life.
Like whenever you get bad result accept it and take responsibility and learn from it and never make the same mistake again learn from it and whenever you do something good, say congratulation to yourself and people who supported you and then start working for other goals and targets, don't behave arrogant always stay humble polite and dedicated.