The Last Lecture Summary By Randy Pausch
The Last Lecture Brief Summary:
The Last Lecture is a lengthened version of the Final lecture professor Randy Pausch gave before he lost his battle with pancreatic cancer, entitled "Really Achieving Your Childhood Dreams." The book focuses on the core principles for his children to embody as part of their everyday lives, highlighting the importance of mentors.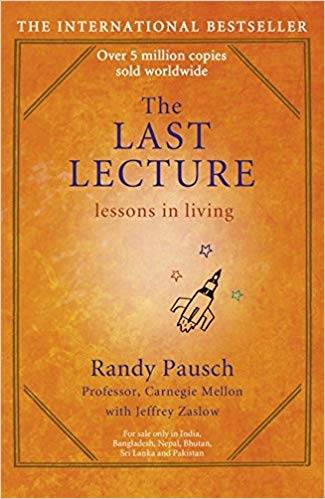 The Last Lecture Book Content is divided into three subjects:
First- The importance of Dreams: Giving oneself permission to dream is essential in turning abstract dreams into concrete goals.

Second- Enabling the dreams of others. This focuses on Pausch's idea that the best way to learn something is to think you are learning something else.

Third and Final Subject is- Pausch summarizing the various life lessons he learned throughout his life.
Why read The Last Lecture book:
The Last Lecture is an emotional and motivational read highlighting the student-professor relationship's role in personal development. In this book, Randy Pausch has combined the humor, inspiration, and intelligence that made his lecture such a phenomenon and given it an indelible form. It is a book that will be shared for generations to come.
About the Author:
Before discussing the book The Last Lecture, let's first discuss the author Randolph Frederick Pausch. He was born in Baltimore, Maryland, and raised in Columbia, Maryland. In August 2006, Pausch was diagnosed with pancreatic cancer. The following year he received worldwide media coverage for his inspirational "Last Lecture," titled "Really Achieving Your Childhood Dreams."
The Last Lecture Detail Summary:
Chapter One: An Injured Lion, Still wants to Roar
Here the author has shared his life story, A lot of professors give talks titled "The Last Lecture." Professors are asked to consider their demise and ruminate on what matters most. And while they speak, audiences can't help but mull the same question: What wisdom would we impart to the world if we knew it was our last chance? What would we want as our legacy if we had to vanish tomorrow?

When Randy Pausch, a computer science professor at Carnegie Mellon, was asked to give such a lecture, he didn't have to imagine it as his last since he had recently been diagnosed with terminal cancer. But the lecture he gave–"Really Achieving Your Childhood Dreams"–wasn't about dying. It was about the importance of overcoming obstacles, enabling the dreams of others, of seizing every moment (because "time is all you have…and you may find one day that you have less than you think"). It was a summation of everything Randy had come to believe. It was about living.

When giving a lecture, Randy never wanted to focus that lecture on his Cancer; Randy knew that many people would want the lecture on Dying but Randy was sure about giving a lecture about living.

How did Randy decide that he would be giving a lecture on Living? When Randy was sitting in a Doctor's Waiting Room, At that moment, Randy was thinking about What makes him Unique?

Randy thought that Cancer doesn't make him unique," There was no arguing that. More than 37,000 Americans a year are diagnosed with pancreatic cancer alone. He thought hard about how to define himself: as a teacher, a computer scientist, a husband, a father, a son, a friend, a brother, and a mentor to his students. Those were all roles he valued. But did any of those roles set him apart?

Though he has always had a healthy sense of self, he knew this lecture needed more than just bravado. he asked himself: "What do I, alone, truly have to offer?"

And then, in that waiting room, he suddenly knew exactly what it was. It came to him in a flash: Whatever his accomplishments, all of the things he loved were rooted in the dreams and goals he had as a child . . . and in the ways he had managed to fulfill almost all of them. His uniqueness, he realized, came in the specifics of all the dreams—from incredibly meaningful to decidedly quirky—that defined his forty-six years of life. Sitting there, he knew that despite cancer, he truly believed he was lucky because he had lived out these dreams. And he had lived out his dreams extensively because of things all sorts of extraordinary people taught him along the way. If he could tell his story with the passion he felt, his lecture might help others find a path to fulfilling their dreams. He had his laptop with him in that waiting room, and fueled by this epiphany; he quickly emailed the lecture organizers. He told them he finally had a title for them. "He apologized for the delay," And wrote. "Let's call it: 'Really Achieving Your Childhood Dreams.'
Read More: 28 Magical Practices
Chapter Two: Getting to Zero-G
Randy Says That It's Important To Have Specific Dreams. The author shares his personal life story. When he was in grade school, many students wanted to be an Astronaut, but since that age, Randy was aware that NASA Wouldn't want him; he had heard that astronauts couldn't have glasses, and he was OK with that. he didn't want the whole astronaut
gig. he just wanted the floating.

Randy's dream became possible when he learned that NASA had a program in which college students could submit proposals for experiments on the plane. In 2001, his Carnegie Mellon students proposed a virtual reality project.

But very soon, He faced Heartbreak when he knew that NASA made it very clear that faculty advisors could fly with their students under no circumstances. He was not deterred. But he knew he would find a way to break this brick wall. He decided to carefully read all the literature about the program, looking for loopholes.

And I found one: NASA, always eager for good publicity, would allow a journalist from the students' hometown to come along for the ride. And By making a win-win deal, he managed to get on that plane almost four decades after floating became one of his life goals. It just proves that.

"If you can find an opening, you can probably find a way to float through it."
Read More: Unlimited Power Book Summary
My Thoughts:
"Always Find A way for your Dream, Never Quit so easily."

If You Give Up Easily on your Dreams, That it was never your Dream; it was just your wish.

This is the end of The Last Lecture Summary. These were only 2 chapters. This is a fantastic book, which will boost you, motivate you, and make you achieve your dreams, so do read it. You can get FREE Audiobook of this book from Audible. Or you can buy it from Amazon.