The Mastery Manual Summary By Robin Sharma
ABOUT THE BOOK:
Blog Title: The Mastery Manual Summary
Name: The Mastery Manual: A Life-Changing Guide For Personal And Professional Greatness
Author: Robin Sharma
Download Free Audiobook at: Audible
Buy The Mastery Manual at: Amazon
Buy The Mastery Manual at: Flipkart
Book size: 200 pages
About Author:
Before talking about the book The Mastery Manual Summary let's first discuss the book's author Robin Sharma. He is one of the world's premier thinkers on leadership in business and in life. He has written numerous books, including the #1 international bestseller The Monk who sold his Ferrari. Author Robin is also in constant demand across the globe as a keynote speaker for organizations dedicated to developing leaders at all level and as an executive coach to people ready to create extraordinary work and personal lives.
Overview: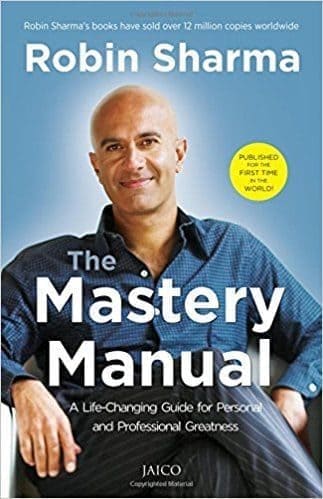 Robin's The Mastery Manual book is a life-changing guide for personal and professional greatness. This book is packed with real-world ideas and practices that will get you to world-class quickly. This book is comprised of 36 life-changing modules. Each module will help you to make your life better and also help your business and take your life to the next level. In this book, Robin Sharma reveals pithy yet profound thoughts that will revolutionize your way of living and make you master of your world.
Let's discuss The Mastery Manual Summary in detail:
Module 1 The Mastery Manual Summary:
LIVE FULLY NOW -Robin Sharma
In this module author says that we people or can say most of the people postpone their living, means we don't live in present or we don't live today but we say that we live our best lives when we have more time or when we finish the pressing projects that are consuming us. We people say that will be more passionate and loving when things slow down, we people say that we for sure follow proper diet and live healthier life when we have more time, but as we all know deep inside our heart that there will never be a better time to live our biggest life than now, author says that if we people don't live our life now than when we will live?
Author says that most of the people live as if they have all the time in the world,  but we don't realize that time slips, we don't live our life at best and when people realize the importance of living their life gets over,  most of the people when they are on their deathbed have the same regrets, that they did not take enough risks, that they did not realize their own potential and they did not show much love to others.
The author says that there are no extra days that there are no meaningless days, THIS VERY day is the day that you can make a choice to stand for something higher and this is the day when you can be the person you know in your heart you always wanted to be. Author says that today is the day you can make a new decision and can start your healthier loving life,  today is the day you can take risk and can move towards your goals by overcoming your fear, Author says for him leader is one who seizes the moment and lives their life as an example to others of what's possible for a human being to create Author says that person should always think about how their best life will look like.
Because in many seminars and workshops author says "WITH BETTER AWARENESS YOU CAN MAKE BETTER CHOICES AND WHEN YOU MAKE BETTER CHOICES, YOU WILL SEE BETTER RESULTS."
Robin has also shared Edwin Louis Cole saying in this module "YOU DON'T DROWN BY FALLING IN THE WATER, YOU DROWN BY STAYING THERE."
Author has shared 6 ways to achieve personal Greatness
Write out a 20-year plan for your professional as well as your personal life.

Spend more time thinking( proper plan and then implement)

Get into valance

Take calculated risks

Be more loving

Be different.
Module 2 The Mastery Manual Summary:
WHAT MAKES AN ELITE PERFORMER?
Author has shared his personal experience and through that experience what he has learned and understood that each of us faces many of the struggles. Each of us wants to find greater meaning in our lives. The author says that each of us has dreams which we desire to fulfill. Author says that each of us has a fear that limits us and our lives, the author says another thing which he has understood that when we people do not play our higher game at work and in our personal lives. We not only betray ourselves-we deny the people we work with as well as the people that we serve the opportunity to have a piece of our magnificence, Author says that this world will become smaller place if we people do not raise our standards and become the people we know in our hearts we are meant to become.
Author has shared several thoughts of his which talks about elite performers
Elite performer play victor versus victim

Elite performer focus on the
Worthy
Elite performers live their truth

Elite performers build human connections

Elite performer add outrageous value

Elite performers are devoted to excellence

Elite performers deepen themselves
Author has shared Rollo May Saying
"Self-love is not only necessary and good; it is a pre-requisite for loving others."
Module 3 The Mastery Manual Summary:
INSPIRATIONAL QUOTES
Author has shared Helen Keller, Simone Well and Marcus Aurelius quotes in this module
"IN THE UNIVERSE, RESPECT THE HIGHER POWER, NAMELY THE CREATIVE FORCE THAT DIRECTS AND MAKES USE OF ALL THINGS, IN THE SAME WAY, YOU MUST RESPECT THE HIGHEST POWER IN YOURSELF, FOR IT IS ON THE SAME CREATIVE KIND.FOR THIS IS WHAT MAKES USE OF THE REST OF YOU, AND DIRECTS YOUR LIFE." –Marcus Aurelius
Author has shared few ways to fill your life with prosperity
Author says to make personal commitments so that can add more value than you are paid for in your business relationships.

Author says to live out your imagination rather than out of your memory by constantly visualizing yourself having all what you ever wanted.

Author says you should get in the habit of blessing your money and silently hoping that it will help the person you give it to.

Become the most giving and loving person.
Module 4 The Mastery Manual Summary:
Small DAILY ACTS OF GREATNESS (SDAG)
IF YOU CONFRONT YOUR PROBLEMS RATHER THAN AVOID THEM, YOU WILL BE IN A BETTER POSITION TO DEAL WITH THEM." –HIS HOLINESS THE DALAI LAMA
Author has shared 5  best practices to live your life at best
Author has asked to get up at 5 am every morning And has asked to take 60 minutes to work on yourself

Author has asked you to surround yourself with people who are living the life you want to live

Author has asked to be the kindest person

Author has asked to read the wisdom literature for at least 30 minutes every day

Author has asked to run towards your dears and do what you are afraid of.
Module 5 The Mastery Manual Summary:
INSPIRATIONAL QUOTES
Author has shared Marcus Aurelius, Eastern saying, Da Vinci and Theodore Parker saying in this module
"FIX YOUR COURSE TO A STAR AND YOU CAN NAVIGATE ANY STORM." –Da Vinci
Author has shared few rules for a deeply rewarding life
Always to stay true to yourself

Never stop doing what you love

Always to remember that we don't see the world the way It is but the way we are

To be the kindest person

Commit to a serious exercise program to awaken your best physical life

Author has asked to spend at least one hour a week in silence and nature to renew you.

Author says to turn your wounds into wisdom and look for the gifts of your failures.
Author has shared few points how to be a life learner
Carry A book wherever you go

Some top-performers read a book in a day

Books help you to see what is already in you

Read more, learn more, laugh more and love more.
These were few modules from the book the mastery manual summary if you want to read this book and want to understand each module then do buy this book from the given links.
Download Free Audiobook at: Audible
Buy The Mastery Manual at: Amazon
Buy The Mastery Manual at: Flipkart
Thank you do comment and share