The Power of Full Engagement Summary
ABOUT THE BOOK:
Blog Title: The Power of Full Engagement Summary
Name: The Power of Full Engagement: Managing Energy, Not Time, Is the Key to High Performance and Personal Renewal
Author: Jim Loehr, Tony Schwartz
Download The Power of Full Engagement at: Audible
Buy The Power of Full Engagement at: Amazon
Buy The Power of Full Engagement at: Flipkart
Book size: 256 pages
Overview: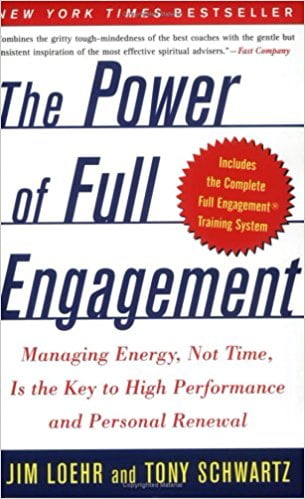 Before talking about The Power of Full Engagement Summary lets first talk about the author of this book, Jim Loehr and Tony Schwartz. Dr. Jim Loehr is world-renowned performance psychologist. He is also the co-founder of the Human Performance Institute, he is author of 15 books including the recent book the power of story and he is also a co-authored of the national bestseller book The power of Full engagement, Now let's discuss the other author Tony Schwartz, Tony is a president and founder of the energy project,  His company helps organizations and their leaders to build and sustain capacity by learning to more skillfully manage energy. Tony has spent his 30 years studying, writing about and teaching people how to change, grow and perform more effectively in all different aspect and dimensions of their lives.
The power of Full engagement summary teach readers that maintaining energy, not time is the key to high performance, author says that every one of our thoughts, emotions and behaviors has an energy consequence, for better or for worse, author says in this book that ultimate goal or measure of our humanity in this world is not how much time we invest but how much energy we invest in that time that we have. The premise of this book is simple- PERFORMANCE, HEALTH AND HAPPINESS ARE GROUNDED IN THE SKILLFUL MANAGEMENT OF ENERGY.
Let's begin with The Power of Full Engagement Summary:
Chapter 1 The Power of Full Engagement Summary:
Energy, not time is the fundamental currency of high performance
Here in this chapter author says that performance, happiness and health are the grounded in the skillful management of energy, author says that number of hours in every day in fixed, but the quantity and quality availability in us is not fixed and that quality and quantity is our most precious resource,  author says the more we take responsibility for the energy we bring to this world the more productive and empowered we become.
Author says that if you want to give your best performance then you need to manage your energy not time, The key point is to optimize your energy not time, hence don't live work for later, work hard and harder, Author says that optimizing performance, health and happiness is not about the quantity of time but about the quality of energy.
Here author has shared 4 principles:
Principle 1:  Here author says full engagement requires drawing of 4 separate but related sources of energy: physical, emotional, mental and spiritual.
Principle 2: Energy can diminish with both overuse as well as underuse; hence we people must balance energy expenditure with energy renewal.
Principle 3: In order to build capacity, we must push our limits,  we must train ourselves similar to athletes.
Principle 4: we must follow positive energy rituals; highly specific routines for managing energy are the key for full engagement and sustained high performance.
In order to make a change, there are last three things which a person needs to follow and that three-step process is DEFINE PURPOSE, FACE THE TRUTH AND TAKE ACTION.
Read More: The Secret Book Summary
Chapter 2 The Power of Full Engagement Summary:
The Best way to optimize your Energy
Here author says that we are humans not super computers, we can't run at high speed, we can't work continuously for longer time, instead we perform our best when we move between expending energy and irregular intervals so that we can renew our energy. Here author said that we live in a rhythmic universe which has wavelike movements between rest and activity.
Hence if we people want to give our best, then we need to live rhythmic life with periods of intense activity followed by the periods of intense rest, author said we must live our life like series of sprints, meaning we must run at full speed at small distance, we must not live like a marathon, means not for longer distance.
Read More: The Happiness Trap Summary
Chapter 3 The Power of Full Engagement Summary:
Tennis player and the power of rest
Author here says that would like to know the difference between a top tennis player and an average tennis player? Well, author says the one major difference is that the top players are oscillating means they follow the regular rhythm of life.
Means they optimize rest between each point,  after research Tony and Tim found out that the top players are able to lower their heart rates between points by up to twenty beats per minute, where in case of average players their heartbeats and rates remains the same, because those average player do not optimize their rest or can say recovery period.
Hence author says we people must give our best but by optimizing rest period, we human needs rest in order to work fast and with high speed.
Read More: Failing Forward Summary by John C. Maxwell
Chapter 4 The Power of Full Engagement Summary:
The 4 sources of energy
We people need to take intervals breaks in order to renew our energy throughout our days  and throughout our lives, in order to fully engaged ourselves we people need to physically energized need to emotionally connected and mentally focused and spiritually aligned with a purpose beyond our immediate self- interest.
Hence there are 4 sources which help us to fuel our performance:
Physical:  here you need to take care of your physical body, are you getting enough sleep? Do you exercise? How's your body working? Do you get proper nutrition?
Emotional:  how's your emotional life going?  do you feel positive daily on a regular basis? Do you behave negatively some time? When? Why?
Mental: how's your mind works? Is it focused? You able to concentrate properly? If not why? do you get distracted easily?
Spiritual:  are you motivated? Do you have your life purpose? Do you have a clear set of values which derives your action?
In order to perform at the highest level, we people need to optimize all 4 sources of energy in our lives.
Read More: The Future Of Happiness Summary
This book contains various other chapters hence if you want to know more about this amazing book then do buy it from the given link.
Download The Power of Full Engagement at: Audible
Buy The Power of Full Engagement at: Amazon
Buy The Power of Full Engagement at: Flipkart
Thank you, do comment and share