Verbal Judo Book Summary / Review
Before talking about the "Verbal Judo Book Summary" let's first discuss the book's author George J.Thompson (Doc Rhino). He is the founder of the Verbal Judo Institute, since 1983 until he died in 2011, he personally trained more than 700,000 individuals in tactical communication. He created a programme in 1983 for defusing conflict and redirecting behavior with words. He has written and published 4 books on Tactical Communication.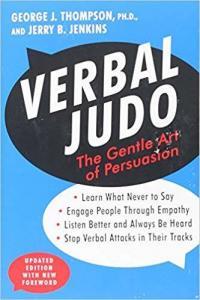 Verbal Judo is the martial art of the mind and mouth that can show you how to prepare yourself nicely in order to face any verbal encounter, through this you will become a good listener, it will help you listen and speak effectively, it will help you engage people effectively, help you to avoid most common verbal or conversational disasters, through this book you will learn proven strategies that will help to communication or raise your point of view successfully and help you to take upper hand in any verbal dispute.
Verbal judo offers a creative look at the conflict that will help you to defuse confrontations and generate cooperation with your spouse, your boss, and even your teenagers, in this book author, says " when you react in any situation, then that situation or event controls you but when you respond then you are controlling the situation and you are in control."
This is an amazing book by George J. Thompson, if you want to win any conversation conflict and want people to understand your point of view then do read this book, this amazing book will also share The Five Universal Truth of Human Interaction, This Book is about using and deflecting other person's reaction to reach your goals.
Let's begin with Verbal Judo Summary:
What is Verbal Judo?
Simply, Verbal judo is the gentle art of persuasion, through the use of verbal judo we may in many cases, be able to redirect the difficult people towards the volunteer compliances, Verbal Judo uses tactical verbal skills to defuse confrontations with difficult people.
Verbal Judo Summary: Introduction
The author says that majority of our contact with other people are verbal, here author says that as we approach the individuals we should immediately  take note of our surroundings and any obvious dangers, we should then analyse the person's behaviour, attitude, and physical appearance, we should see whether the person is intoxicated, injured, friendly, angry etc, the author says that before discussing the application of verbal techniques let's first discuss the Safer principle.
The author says that when the worlds fail and if our initial indication of verbal techniques may not be appropriate then safer principle should be applied,
The first aspect of safety includes the analysis of body language, the person's appearance, the tone of voice,  body language, presence of weapons etc.
Read More: The 4 Disciplines of Execution Summary and Review
Verbal Judo Summary Part 1: 
Identify the traits of enhanced professionalism
Here the author says, that we all face some personal issues which affect our daily lives and our behaviour, the author says that numerous things happen that affect our behaviour towards others and towards other things and even towards our co-workers if we want verbal judo to work for us then we first need to recognise the personality of other people we are dealing with, Professional traits include listening rather than speaking, being open and unbiased, interpreting tone and demeanour accurately, and responding to people appropriately.
Read More: Get Anyone to Do Anything Summary & Review
Verbal Judo Summary Part 2: 
Types of people
1) Nice: Here author says that nice person is single keyed whose goals and behavior is to be nice, helpful and thoughtful towards others, and if you meet nice people then it can be beneficial and rewarding for you.
2) Difficult: Difficult people are Multi keyed, typically they may be anti-law enforcement and can be disrespectful, the author says that difficult person would have been a nice person earlier at past but due to negativity and difficult situation they would have become difficult, difficult person can be recognized easily by their tone and body language.
3) Sneaky:  Sneaky people are single keyed and they will deliberately show us that they are the nice people, sneaky people can have hidden motives and in order to fulfil their motives they can show us or can make us believe that they are nice and they are willing to help us, sneaky person are hard to recognise.
Read More: The 5 Essential People Skills Summary
Verbal Judo Summary Part 3 – Identify methods to decrease citizen complaints
Topic 1: Tone
The author says that attitude and tone are the most dangerous weapons we carry, the author says that if we use caring words in a demeaning, sarcastic and insolent tone, then on which thing people will believe your tone or words, obviously tone, hence always maintain professional and courteous tone while addressing others.
Topic 2: Professional Demeanour
The author says that sometimes our mere presence can either calm the situation or it can escalate it, the author says that if your behavior towards a person represents anger or prejudice, then what kind of response you expect to receive? if you seem disinterested by receiver then what compliance you are expecting? here author says that we are trying to obtain voluntary compliance.
This is the end of Verbal Judo Summary. To understand this book in more detail do buy it from here. You can also take a one-month free trial of any two audiobooks from Audible.
If you want me to make a second part for Verbal Judo Summary then please comment and let me know.
Thank you.