What Got You Here Won't Get You There Summary
ABOUT THE BOOK:
Blog Title: What Got You Here Won't Get You There Summary
Name: What Got You Here Won't Get You There: How Successful People Become Even More Successful
Author: Marshall Goldsmith, Mark Reiter
Download Free What Got You Here Won't Get You There Audiobook on Audible
Buy What Got You Here Won't Get You There on Amazon
Buy What Got You Here Won't Get You There on Flipkart
Book size: 256 pages
About Author:
Before talking about What Got You Here Won't Get You There Summary let's first talk about the book's authors. Marshall Goldsmith is a world authority in helping successful leaders achieve positive, measurable change in behavior, for themselves for their people and team. Recently, the American management association named Marshall as one of 50 great thinkers and leaders who has influenced the field management over the past 80 years.  His work has been featured in Harvard business review school, New Yorker profile. Marshall work has received national recognition from almost every professional organization in his field. Marshall is a founder of Marshall Goldsmith partner, which is providing coaching for leaders around the world. He also served as a member of the board of the Peter Drucker Foundation for 10 years.
Overview: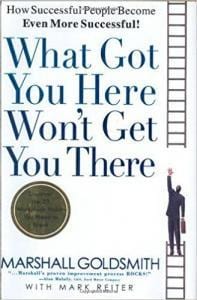 In "What Got You Here Won't Get You There Summary" has a detail look into the nuances between those who climb on the top of the corporate ladder and those who fall just short. In this book, the author says we all have trouble seeing ourselves as others see us. Marshall Goldsmith takes dead aim at the problem by describing his unique methods for coaching candidates for top into the corner offices.
Let's begin with What Got You Here Won't Get You There Summary:
Chapter 1: The Success Delusion, or Why We Resist Change
Here in this chapter author says that we people in workplace overestimate our contribution to a project. The author says that we people have an elevated opinion of our professional skills and standing among our peers, and we people take credit partial or complete-for successes that truly belongs to others.
Author says not only that but we people also conveniently ignore the costly failures and time-consuming dead ends which has been created by us people. author says that we people exaggerate our projects' impact on net profits because we discount the real and hidden costs built into them ( here cost are someone else's problems, success is ours) Author says that all these delusions are the result of success, not failure,  and all this is because we get positive strength from our past successes.
In this chapter author has shared four key beliefs that help you help you become successful. Author says that however, each can make it rough for you to change.
1. I HAVE SUCCEEDED
Here author says that for successful people past is always musical and rose-colored. author says that this kind of belief only becomes dangerous and an obstacle when behavioral change is needed.
2. I CAN SUCCEED
Successful people believe they have the capability within themselves to make desirable things happen. Aauthor says that successful people believe that through their sheer force of personality, talent or brainpower. They can change a situation or can take any situation in their direction.
3. I WILL SUCCEED
Author says that successful people have a lot of positivity in them, they have unflappable optimism in them, but it can easily mutate into excessive optimism. Here author explains why successful people tend to be extremely busy and face the danger of overcommitment. Author says that when the " do nothing is asked to them." When you asked why didn't you implement the behavioral change you said you would"? For this, the most common response you will see is "I MEANT TO, BUT I JUST DIDN'T HAVE TIME.
4. I CHOOSE TO SUCCEED
Here author says that successful people believe they are doing what they choose to do because they choose to do it.
Read More: First, Break All the Rules Summary By Marcus Buckingham
Chapter 2 How We Can Change for the Better
In this chapter offers 7 steps for us in order to fix our bad behaviors both individually and as a whole.
1. Feedback
Author says whenever feedback is given to you in any form, don't react for that feedback respond for it, don't argue but understand, the author says that take feedback nicely so that it becomes a way for you towards your self-improvement. And thank the person who has given you feedback because their feedback becomes a life-changing way for you towards success and improvement.
2. Apologizing
Here author says to apologize if you realize that you have done something wrong, you should let go your ego and pride and should accept your mistake and wrongdoing, and just apologize for whatever it is.
3. Telling the world
Author says that when you understand your mistake and accept your mistake and apologize for it you should understand the behavior you want to change and when you decide what changes you are going to make and let everyone know about them, especially the people you've apologized to. Author says apologies doesn't mean anything if you don't mix that apology with some efforts.
4. Listening
Author says when someone is talking to you listen to them, never interrupt any person while talking, always listen attentively, reply when your turn comes.
5. Thanking
Author says whenever anyone does anything good or beneficial for you always thank them, you must be sure to take time in order to thank them.
6. Following up
Author says when you understand and decide to bring changes in you and decide to eliminate bad habits from your life, and then you must follow up on them.
7. Practicing feed forward
Author says at this point you are making real progress on your negative habits. Here author ask you to step back and should ask for some future suggestion on where you should go with these changes which you have brought in you and in your life.
Read More: Ask and It is Given Summary
Chapter 3: The 20 habits
In this chapter, author has spoken about 20 habits that hold you back from the top
1.
Winning too much
Here author says that people usually have a common behavioral problem. There's a very fine line between competitive and over-competitive, between winning when it counts and when no one is counting. Aauthor says winning always is the number 1 challenge because it underlies nearly every other behavioral problem.
2. 
Adding too much value
Author says people have a problem that they find really very difficult to listen to other people telling them something which they already know, people say that they already know that and they know it in a much better way.
3. Passing judgment
Author says that its normal to share an opinion. It's very normal to give and take an opinion but it's not normal to pass a judgment. Passing judgment is not appropriate when we specifically ask people to voice their opinion about us.
Read More: Don't Sweat the Small Stuff Summary By Richard Carlson
This is the end of What Got You Here Won't Get You There Summary. If you want me to make 2nd part of this book summary then do say "yes" in the comment section. And if you want to understand this book in more detail then do buy it from the given links.
Download Free What Got You Here Won't Get You There Audiobook on Audible
Buy What Got You Here Won't Get You There on Amazon
Buy What Got You Here Won't Get You There on Flipkart
Thank you
Do comment and share.