A New Earth Summary + Review By Eckhart Tolle
ABOUT THE BOOK:
Blog Title: A New Earth Summary By Eckhart Tolle
Name: A New Earth: Create a Better Life
Author: Eckhart Tolle
Free Audiobook A New Earth: Create a Better Life Attitude at: Audible
Buy A New Earth: Create a Better Life at: Amazon
Buy A New Earth: Create a Better Life at: Flipkart
Book size: 336 pages
About Author:
Before talking about the book A New Earth summary, let's first discuss about the book's author Eckhart Tolle. he is a German-born resident of Canada. He is best known as the author of the power of now and A New Earth. In 2008 New York Times writer called Tolle "The most popular spiritual author in the united states". In 2011 he was listed as the most spiritually influential person in the world by Watkins reviews. His book power of now and A new earth sold an estimated three million and five million copies respectively in north America by 2009. In 2008, approximately 35 million participated in a series of 10 live webinars with Tolle and television show host oprah win Frey.
A New Earth: Create a Better Life Overview: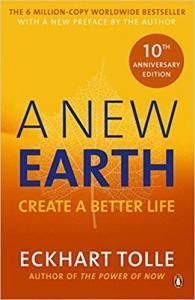 A New Earth: Create a Better Life book outlines a crazy and destructive place we call home, author of this book also shows us that we can all save it together by looking into our mind and by detaching ourselves from ego because when we detach ourselves from ego we move towards practicing acceptance and enjoyment. A New Earth Summary describes some of the central point humanity faces today and gives an individual like us a place to start changing that, this book author says that if you want to save our planet then we people must think ourselves to a better earth.
A New Earth Brief Summary:
A New Earth Book goes beyond teaching how to live in the moment and helps readers learn how to turn their suffering into peace. All types of suffering are addressed in the book, from anger and grief to jealousy and anxiety, In A New Earth book Author talks about a lot of Ego and how we can separate ourselves from it, Author has recommended few exercises and explanations in this book and they are not meaningless, they actually work, if you follow them with passion and with full focus. Whether your suffering is rooted in jealousy, anger, grief, sadness, anxiety, or depression, Tolle will help you see life from varied perspectives, awakening you to your life's purpose. This book will help you to live your life happily and joyfully.
A New Earth Full Summary:
Chapter 1 A New Earth Summary: The urgency of transformation
Author says when faced with a radical crisis, when the old way of being in the world, of interacting with each other and with the realm of nature doesn't work anymore, author says when survival is being threatened by numerous problems, either two things can happen with any human or species, either individual human life form or a species will die or become extinct or human will rise above the limitations of its condition through an evolutionary leap.
In this chapter, the author says that it is believed that life-forms on this planet first started and evolved in the sea. The author says that when there were no animals yet to be found on land, the sea was already swarming with life. Author says that at some point any sea creature must have tried to venture onto dry land,  at first that creature must have tried to crawl a few inches into the land but at start that creature must have exhausted due to gravitational pull of the planet and with this starting difficulty that creature would have again return to the water or sea where gravity is almost nonexistent, that creature returned to that sea so that can live in there with much ease,  but creatures must have tried again and again to come onto the land and finally they must have adapted to life on land, they grew feet instead of fins, they must have developed lungs instead of gills, that species must have ventured this alien environment and gone through such an evolutionary transformation unless it was needed to do so by some crisis situation which has forced fish and sea creatures to leave their habitat and evolve.
Read More: The Mastery Manual Summary By Robin Sharma
Chapter 2 A New Earth Summary: EGO
In this chapter author talks about words, author says no matter whether words are vocalized and made into sounds or remain unspoken as thoughts, either which ways it can cast an almost hypnotic spell upon you. author says that we people can easily lose ourselves in them, we become hypnotized into it by completely believing that when we attached a word to something, we know what It is, but the fact is we have no idea what exactly it is,  author says we people simply just cover the mystery with label, Author say everything whether it's a bird, or simply a stone or even a human being is ultimately unknowable, author says that every mystery is covered with label, we have no idea what it is but just because we cover it with words we believe that we know what it is.
Author says that everything is not only connected with everything else, but also with the source of all life of which it came,  author says even a stone bird flower or a bird could show us back the way to god to the source to yourself. Author says that if we don't cover up our world with words and labels, a sense of miraculous returns to our lives which has been lost a long time ago.
Read More: The Seat of the Soul Summary
Lessons from A New Earth: Create a Better Life:
1. 

Be like a Duck
Author says that overthinking is detrimental hence we should be like a duck,  in this lesson author is talking about two Buddhist monk story.
Two Buddhist monks were travelling along a muddy road, it was raining heavily, while they were traveling they show a beautiful women, she was unable to cross an intersection, because of heavy rain and bad weather, looking to her first  Buddhist helped that women by picking her up and takes her to the other side and after helping her, both Buddhist leave for their journey, as they reach their destination second Buddhist ask the first one, by saying we Buddhist aren't supposed to be near females, still you helped her why you did that?
Listening to this first Buddhist said " I left that girl there, are you still carrying her?
With this exampleTollee want us to understand that why we people carry small issues for long, why we overthink, author says that we should be like duck, after a fight duck immediately swim in opposite directions and immediately get back to life, they become normal then why can't we people like duck, why we keep small things in mind and heart we people must overcome and should get back to normal.
We humans like to feel bad, hurt sad and later we blame the world for our feelings, but it is us who hold grudges resentment within us which eventually stop our growth.
Read More: Success Through A Positive Mental Attitude Summary
2. Accept things the way they are only then you can feel enlightened happy and joyful
Author says you to accept every moment, do whatever you have to do in any given moment, do things peacefully without making judgments and be open-minded, live in the moment and work hard and smart for future.
Read More: Happiness Is A Habit Summary
This is the end of A New Summary. To understand this book in detail does buy it from the given links:
Free Audiobook A New Earth: Create a Better Life Attitude at: Audible
Buy A New Earth: Create a Better Life at: Amazon
Buy A New Earth: Create a Better Life at: Flipkart
Thank you
Do comment and share