Grit Book Summary (The Power of Passion and Perseverance)
Grit Book Brief Summary:
Pioneering Psychologist Angela Duckworth takes us to the Eye-opening journey to discover the true qualities that lead us to outstanding achievements. This book shows that anyone striving to succeed- either be it, parents, students, educator, athletes or business people- that the secret of outstanding achievements is not talent but the special and unique blend of Passion and Persistence which is called as Grit By the Author. in this book author shares her life story, Grit is a book about what goes through your head when you fall down, and how that – not talent or luck – makes all the difference.
About Grit Book Author:
Let's discussed the Grit Book Author Angela Duckworth. She is an American academic, Psychologist and popular science author, She is Christopher H. Browne Distinguished Professor of Psychology at the University of Pennsylvania, where she studies grit and self-control. She is also the Founder and CEO of Character Lab, a not-for-profit whose mission is to advance the science and practice of character development.
Grit Book Summary in Detail: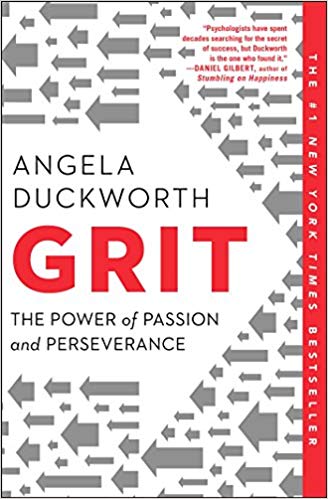 Chapter One: Showing Up
This chapter begins with a discussion of what it takes to be an admitted to a west point because of The admissions process for West Point is at least as rigorous as for the most selective universities. Top scores on the SAT or ACT and outstanding high school grades are a must, West Point selects only 1200 out of 14000 applicants, Applicants should not only receive nominations from Member of Congress but they also meet stringent physical and academic standards, and even among this elite group, one out of five cadets drop out before graduation, Many drops out during the first summer during an intensive seven-week training course nicknamed "The Beast." The days at West Point are extremely tiring and demanding. They begin their day at 5 a.m. and end with Taps at 10 p.m. There are no breaks or vacations with families, and cadets are challenged mentally, physically, and emotionally.
Chapter 2: Distracted by Talent
Even though we say that hard work is superior to talent, but still we believe opposite deep inside, Starting of this chapter Author Duckworth talks about how she quitted her well-paying job in managing consultant just to become a seventh-grade math teacher at a public school in the Lower East Side of Manhattan in a poor neighborhood, when she started teaching students she noticed that some of her students were "quick studies" who immediately saw patterns in math problems, she also noticed that these were the students who were not the highest achievers in her class, instead some of the students who were not as quick to understand problems, has made themselves higher achievers by working at their problem again and again and they were students who used to enter in class by preparing themselves, by seeing this she was surprised, she started asking her a hard question and later she came up with conclusions and one of the conclusion is "that the focus on talent distracts us from something that is at least as important, and that is effort".
Read More: The Attention Revolution Summary
Chapter 3: Efforts Count Twice
In this chapter Duckworth says that not a day went when she hasn't seen heard or read The word Talent, In every section of the newspaper, in every page —from the sports page to the business section, from profiles of actors and musicians in the weekend supplement to front-page stories of rising stars in politics—allusions to talent abound. It seems that when
anyone accomplishes a feat worth writing about, we rush to a point that individual as extraordinarily "talented." The author says that if we overemphasized talent, then we underemphasized everything else.
The author says that "The Mundanity of Excellence." In the study, he found that excellent performance is a combination of small skills that become a habit and then become a whole in combination. There is nothing special in any one of the activities but in the way, they come together. Dan believes that when people fail to explain greatness in words, they come up with some invisible thing called Talent, however, people effort hard work and persistence is something which altogether for a great result.
Read More: The Last Lecture Summary By Randy Pausch
My opinion: We shouldn't underemphasized other things which have helped us or others to reach the top, it's not only their talent, but their hard work, persistence, and perseverance, hence never underemphasised.
these were few chapters, in order to understand the importance of persistence, hard work, and efforts, do read this book from the below description.
This is the end of Grit Book Summary. Let me know in the comment section how did you like this book.
If you want free audiobook of this book then you can get it from Audible. Or you can buy it from Amazon.
Thank You.