Follow Your Heart Book Summary By Andrew Matthews
ABOUT THE BOOK:
Blog Title: Follow Your Heart Book Summary
Name: Follow Your Heart: Finding Purpose in Your Life and Your Work
Author: Andrew Matthews
Download Follow Your Heart Free Audiobook on Audible
Buy Follow Your Heart book on Amazon
Buy Follow Your Heart book on Flipkart
Book size: 144 pages
About Author:
Before talking about 'Follow Your Heart book summary' let's first discuss the book's author Andrew Matthew.  Andrew's down to earth books illustrated with his own cartoons- have gone global. "Being happy" and "Follow your heart" have become self-help classic, selling in 70 countries. The best thing about Andrew's book is they are easy to read and easy to relate to, easy to apply and they are funny. 
Andrew speaks to conferences worldwide-and he draws his trademark cartoons throughout his presentations. Andrew lives in Australia with his wife and publisher, Julie.
Overview: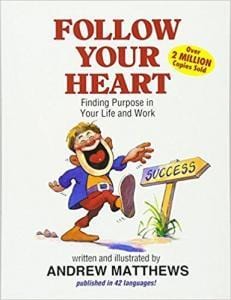 Follow Your Heart Book Summary: Follow your heart is a simple and practical guide for anyone who wants to find purpose in their life and work. This book is about what people love to do, dealings with bills and broken legs, discovering one's own power, finding peace of mind, dealing with disasters and not blaming others, this book is about how happy people think, what losers do and think and how not to be like a loser.
Let begin with Follow Your Heart Book Summary:
Author has shared few concepts in the starting of the book
WE ARE HERE TO LEARN LESSONS AND THE WORLD IN OUR TEACHER

THE UNIVERSE HAS NO FAVORITES

YOUR LIFE IS THE PERFECT REFLECTION OF YOUR BELIEFS

FOLLOW YOUR HEART

GOD WILL NEVER GOING TO COME DOWN AND SAY TO YOU THAT NOW YOU HAVE PERMISSION TO BE SUCCESSFUL

HOW DO YOU LOVE PEOPLE? JUST ACCEPT THEM

OUR MISSION IN LIFE IS NOT TO CHANGE THE WORLD BUT OUR MISSION IN TO CHANGE OURSELVES.
When we fail to learn a lesson, We get to take it again.. And again! Once we have learned the lesson, we move on to the next one. (And we never run out of lessons) – Andrew Matthew
Read More: Act Like a Lady Think Like a Man Summary
Chapter 1 Follow Your Heart Book Summary:
Why do I need disasters
In this chapter author says that the only time when most of the people learn anything Is when we get hit over the back of the head, the reason we learn only when we face problems struggles or disasters because it's easier not to change, so we keep doing the same thing what we are doing until we hit a brick wall.
Here author has shared few examples
Example 1 related to our health, authors say we don't do proper diet and exercise until we don't feel sick until doctor doesn't tell us that now you have to change your diet or else you'll kill yourself, the moment we face trouble related to health that very moment we become motivated and focused towards our health.
Example 2 related to relationship, author says we fail to show our love and care to our loved ones until it has been too late, we show our love and care when our marriage and family fall apart.
Example 3 related to school,  author says we study just one night before exams because we realize that if we don't study we will fail.
Example 4 related to business, author says we try new ideas and make tough decisions when we don't even have money to pay our bills.
Author says that we people learn biggest lessons when we see rough situations. Author says that we people make tough decisions and take tough actions only when we face rough and harsh and disastrous situations in our lives. Author says that disasters and rough situations are actually the biggest turning points in our lives.
Author says effective people don't go in the search of problems, but when they face problems they don't run away from them instead they ask themselves, "How do I need to change what I am thinking and what I am doing? They ask themselves how they can be better than they are now?  Author says effective people deal with problem and losers crib for their problems and only say why everything bad happens to them.
Author says that we are not in this world to get punished, we are here in this world to be educated, every event has potential to transform us in a better way and author says that disasters and bad situations struggles have the greatest potential to transform us and to change our thinking. Author says that to "ACT AS IF EVERY EVENT HAS A PURPOSE AND YOUR LIFE WILL HAVE PURPOSE."
Author tells us to figure out why we need an experience, conquer it and you won't need it again. –Andrew Matthew
Read More: The Mastery Manual Summary By Robin Sharma
The universe has no favorites
In this chapter author says that if we people our honest with ourselves then we can list almost everything that's ever happened to us- and see how we helped create it, author says we don't need to worry about whether the law of the universe is delivering for your neighbor, we don't need to worry about what law of universe is giving to others or to our neighbors but we need to be focused on our lives we must watch the law of cause and effect at work in our own life- in our success, relationship, disappointment, but focusing on your life you will be in greater peace of mind.
THE UNIVERSE REWARDS EFFORTS, NOT EXCUSES – Andrew Matthew
Author says that start anywhere you can, give your best shot to whatever is in front of you, your efforts will give you opportunities, your efforts will help you to find opportunities, it is called as developing a reputation it is known as one thing leads to another.
Author says that happy people don't just accept change but they embrace that change, they are the kind of people who always work hard for their future and live in the moment with happiness, they never see their next five years to be like the last five years.
Subtopic 3 Your Life is a perfect reflection of your belief
Author says when you change your deepest beliefs about the world, your life changes accordingly, Author says in order to have something in your life and to keep that something in your life you must be comfortable with it, an example in order to make money and to keep it you must be comfortable with money.
Prosperity is not necessarily a money thing, it is a lifestyle thing. – Andrew Matthew
Read More: The Seat of the Soul Summary
Chapter 2 Follow Your Heart Book Summary:
The moment you get attached to things you screw it up
In this chapter author says that the challenge of life is to appreciate everything and attach yourself to nothing.
Author in this chapter has spoken about giving, author says in order to give something to someone you need to give it without wanting anything back, because if you expect anything back from that giving then it means you are attached to a result and when you attached with something you get less.
Author says that yes you people should enjoy your material possession but the only thing you should remember that you own them and they don't own you.
Read More: A New Earth Summary + Review By Eckhart Tolle
Give your best
In this chapter, author says that you give your best not because you want or need to impress someone but you give your best because that's the only way to love your work. Author says that many people have no idea what they exactly want and that no knowing upsets them because they are not getting what they want, hence author says in order to avoid this upset and stress try to figure out what is closest to it and go from there.
The joy is in doing your thing-and stretching because you choose to not because you have to. –Andrew Matthew
Read More: Success Through A Positive Mental Attitude Summary
These were some amazing knowledge from an amazing book Follow your heart by Andrew Matthew. This is an amazing easy to read self-help books with fascinating animated cartoons, animated cartoons make this book fun to read a self-help book, If you want to understand this entire book in detail then do buy it from the given links:
Download Follow Your Heart Free Audiobook on Audible
Buy Follow Your Heart book on Amazon
Buy Follow Your Heart book on Flipkart
Thank you
Do comment and share if you want me to make another part for Follow Your Heart Book Summary.