How to Read a Person Like a Book Summary
ABOUT THE BOOK:
Blog Title: How to Read a Person Like a Book Summary
Name: How to Read a Person Like a Book: Observing Body Language to Know What People Are Thinking
Author: Gerard I. Nierenberg, Henry H. Calero
Free Audiobook How to Read a Person Like a Book from Audible
Buy How to Read a Person Like a Book on Amazon
Book size: 118 pages
About Author:
Before talking about the "How to Read a Person Like a Book Summary", let's first talk about book author Gerard I. Nierenberg and Henry H. Calero. Gerard Irwin Nierenberg was an American Lawyer, author, and author in negotiation and communication strategy. Forbes named Nierenberg "THE FATHER OF NEGOTIATION TRAINING" For his exploration of negotiation strategies and tactics as well as his decades of work disseminating the philosophy that "in a successful negotiation everybody wins.  Henry H Calero is the author of books such as How to Read a Person Like a Book, Knuckleball and The Power Of Nonverbal Communication.
Overview: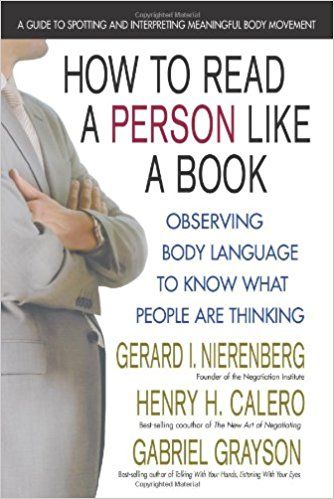 In "How to Read a Person Like a Book Summary", learn what your friend, your lover, your boss are really saying to you in a language that everybody uses but nobody speaks-Body language! This book helps you to improve your ability to communicate with other people. This book helps you to learn how to decode and reply to nonverbal signals from strangers, friends and business associates, we all know that consciously or not of our bodies' movements, we express our feelings, attitudes, and motives through gestures that are often vague and frequently ignored.
This book allows you to gain command of business and social situations, helps you to sharpen your negotiation skills, helps you to recognize the unspoken signals of affection and attraction, also improves your knowledge about body language, Gerard proven techniques for gaining control of negotiation, will help you to understand and recognize signal of love affection and attraction, and also give you advantage of making your social and business life successful.
Let's begin with How to Read a Person Like a Book Summary:
Chapter 1: ACQUIRING THE SKILLS FOR READING GESTURES
This chapter starts with Lord Chesterfield saying that learning is acquired by reading books, but the much more necessary learning the knowledge of the world is acquired by reading men and studying all the various editions of them.
Author says that an airport is the best place for noticing and viewing the entire human emotional spectrum,  author says that if you notice at the airport you will understand each travellers emotions and feelings through their body language for example if you see a woman who is bit nervous about flying pinching the fleshy part of her hand for reassurance then this body language of hers is somewhat like saying to herself that it's ok it's going to be alright, it is similar to people saying that I had to pinch myself to make sure that it wasn't a dream.
Read More: The Law of Success In Sixteen Lessons Summary
Another example, suppose a male waiting for departure time may also be unsure about flying then his sitting posture will tell you everything about his emotions and feelings, he will be sitting in a rigid, upright position with his ankles locked, his hands are clenched together, making one big fist, he will rhythmically massages one thumb against the other on top of his interlocked hands, these gestures of his will define and indicate a nervous attitude.
In this book author talks about the entire airport area, firstly he discuss the departure area further he speaks about the telephone booth area, he says there are three men in telephone booths, one man is standing with body at attention, his coat is buttoned, this way he gives the impression that with whom so ever he is talking is very important to him, he might be the salesman talking to a customer on the telephone.
Read More: Boundaries in Dating Summary
Author now talks about the second person in the telephone booth, he says that second caller's body is relaxed, he slouches over, shifts his weight from foot to foot, rest his chin on his chest, his body language says that he is looking at the floor and nods his head saying yeah, yes. After noticing his impression you can say that he is comfortable but possibly bore with the conversation and trying to hide the fact,  he may be taking the receiver of the phone for granted, that receiver maybe his wife or an old friend.
The third caller is talking to his girlfriend, because his face is hidden, and the way he is handling the phones as if it were the object of his affection.
This book shows each gesture postures images, with images and easy to understand words and sentences you can easily improve your body language understanding and knowledge.
Chapter 2: 

MATERIALS FOR GESTURE-READING
Author says the individual significance of a gesture is sometimes subject to as many interpretations as the number of people evaluating it, but author says that we should always remember that each gesture is only one input and the total congruent communication picture is what we are seeking, author says that we should never get influenced just by observing only one gesture and should never make a decision until and unless we don't understand the Gesture-cluster and the prior and subsequent gestures.
In order to understand gesture-cluster and to determine the congruity of its components, let us first understand the several nonverbal communication which is easily recognizable and often encountered.
Read More: Maximum Achievement Summary By Brian Tracy
Author says that during the business negotiation one can observe a wide range of facial expression, author says that we focus on eyes often than any other part of the body, The eyes of men converse as much as their tongues, eyes have more expressions and it has widely accepted meanings, at some time or another almost everyone has encountered a look that could kill, a fisheye , a come hither look or an I am available glance.
In this point, the author has shown images of two groups and by looking at their body language you can know which group is happy, confident and smug and which group is unhappy, angry and defensive.
Author also talks about different type of smile, first oblong smile, another is upper or how-do-you-do smile, in which upper teeth are uncovered and the mouth generally is generally slightly open and the simple smile a typically nonsense smile, this smile occurs when someone is by himself and happy, the lips curve back and up but remain no dental display, the broad smile occurs in situation of pleasurable excitement.
The author also talks about walking gestures; the author says that every individual has a distinctive walk that makes him easily recognizable to his friends.
Read More: 12 Rules for Life Summary
This is the end of "How to Read a Person Like a Book Summary".To understand each chapter of this book in detail do buy this book from the given links
Free Audiobook How to Read a Person Like a Book from Audible
Buy How to Read a Person Like a Book on Amazon
Thank you.