No Excuses!: The Power of Self-Discipline Summary
ABOUT THE BOOK:
Blog Title: No Excuses!: The Power of Self-Discipline Summary
Name: No Excuses!: The Power of Self-Discipline
Author: Brian Tracy
Free Audiobook No Excuses!: The Power of Self-Discipline from Audible
Buy No Excuses!: The Power of Self-Discipline on Amazon
Book size: 304 pages
About Author:
Before talking about "No Excuses!: The Power of Self-Discipline Summary", let's first discuss the book's author. Brian Tracy is one of the most famous authors and also a great influencer. He has risen to success, he faced many troubles and obstacles in his life but still didn't give up. He was a child of a poor family, his family financial status was so weak that they used to struggle to pay his house bills but he never took his life problems as an excuse. He fought with them and eventually his hard and smart work paid him well.
Brain Tracy the president and CEO of three Multi-million dollar company and one of these companies is his own named aptly. He has a skill and talent of speaking four different languages, he has travelled and worked in over 80 countries and across the six continents in the world, in one of the interview he said that " He believe through learning and the application of what you have learned, you can solve any problem and can overcome any obstacle and can achieve your any goal that you set for yourself." And his believe is not just in words, but his achievement can show us that yes having such believe with action can make us achieve what we always desire, Brian Tracy has authored over 40 books, recorded more than 300 videos and also did audio learning programs and coached live audiences of more than 250000 strong manually.
Brian Tracy some of the best books which h he has developed after 25 years of his research are The 100 Absolutely Unbreakable Laws of Business Success & The Psychology of Selling.
Overview: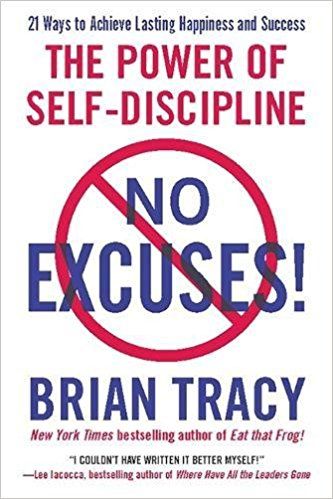 In No Excuses!: The Power of Self-Discipline Summary, the author says that we don't need to born under a lucky star, or with incredible wealth or with terrific contacts and connections or even special skills but the thing which you needed to get success in any aspect of your life is SELF-DISCIPLINED. Author says that the two enemies which doesn't allow people to get success is laziness, (procrastination) and the other thing that they want immediate gratification: means people don't consider the long-term consequences of the actions they take today, his book NO Excuse will show you how you can achieve success in all three major areas of your life.
Those three major areas are:
Your personal goals

Your business and money goals

Your overall happiness
This book is for ambitious people who want to achieve everything that is possible for them in life, this book is written for those people who are hungry to get more in life, who never want to settle for an average life, and for those who want more than they ever had before.
This book has several quotes, and one of my favorite is "SELF-DISCIPLINE IS THE ABILITY TO DO WHAT YOU SHOULD DO, WHEN YOU SHOULD DO IT AND WHETHER YOU FEEL LIKE IT OR NOT."
Read More: How to Read a Person Like a Book Summary
Two biggest enemies of Success, Happiness, and Personal Fulfillment:
1. THE PATH OF LEAST RESISTANCE
This path causes people to take the easy way in almost every situation, here people seek shortcuts for almost everything, here people arrive at work at the last minute and leave at the first opportunity, where people look for get-rich-quick schemes and want to earn more with no hard work, with such doing they develop a habit of always seeking an easier, faster way to get the things they want they never want to work hard to achieve their real and necessary success.
Read More: The Law of Success In Sixteen Lessons Summary
2. THE EXPEDIENCY FACTOR
Here author says that this enemy is an extension of the least resistance, here people invariably seek the fastest and easiest way to get the things they want right now, with little or no concern for the long term consequences of their behavior, In short here people do what is fun and easy than what is necessary for success.
Author says every minute and every single day there is a battle going on inside of you between doing what is right, hard and necessary or doing what is easy, fun and has no value, hence every day you must fight with two enemies and should win the battle if you truly desire to achieve your dreams.
Read More: Boundaries in Dating Summary
#TAKECONTROLOFYOURSELF
Author says that there is another definition for Self-discipline and it is self-mastery. Author says that success is possible only when you master your own emotions, appetites and feelings, the author says that people who fail to master their appetites they become weak and also becomes unreliable in other things.
Author says that self-discipline can also be define as self-control,  author says self-control is the ability to control yourself and your actions, self-control control's what you say and do, self-control or self-discipline ensure that your behavior are consistent with your long term goals and objectives.
Author says that self-discipline can also be defined as self-denial, here self-denial means to deny your unnecessary needs and demands, you should deny yourself the easy pleasures and the temptations, you unnecessary needs can take you to the wrong path hence deny it and disciplined yourself to do only those things that you know are right for the long term and appropriate for the moment.
Read More: Maximum Achievement Summary By Brian Tracy
Author says that self-disciplined requires delayed gratification, means you should have the capability to put off the satisfaction in the short term in order to enjoy greater rewards in the long term.
Author says that sometimes you must thought that why some people achieve so much in their personal and professional lives than others,  author says that this thinking and this question has occupied some of the very best minds throughout the human history, author says that more than 2,300 years ago Aristotle wrote the ultimate aim of the human life, he says that the ultimate aim of the human life is to be happy,  he said that the great question which we all must answer is : HOW SHALL WE LIVE IN ORDER TO BE HAPPY?
After asking this question to yourself, then you must answer it with pure and genuine heart,  and ones you know the answer then you must follow your heart where your answer leads you, because your answer will determine what exactly you want to live a happy life, Author says that every individual has a different definition for their happy and successful life, hence begin with your own definition,  define your success? Ask yourself that if you can wave a magic wand and can make your life successful and perfect, then how would it look like?
Ones you get the answer for your question, then achieving the desire life will become easy for you, the moment you begin to define what success means to you, you can immediately see things that you should be doing more or less in order to begin creating your ideal life.
Read More: 12 Rules for Life Summary
The very famous definition of success which is mentioned in this book is " BEING ABLE TO LIVE YOUR LIFE IN YOUR OWN WAY, DOING ONLY THOSE THINGS THAT YOU WANT TO DO, WITH THE PEOPLE WHO YOU CHOOSE, IN THE SITUATIONS YOU DESIRE."
This is the end of "No Excuses!: The Power of Self-Discipline Summary". This is an amazing book which has several amazing chapters, to understand each chapter in detail do buy this book from the given links:
Free Audiobook No Excuses!: The Power of Self-Discipline from Audible
Buy No Excuses!: The Power of Self-Discipline on Amazon
Thank you