25 Ways To Win With People Summary
ABOUT THE BOOK:
Blog Title: 25 Ways To Win With People Summary
Book Name: 25 Ways To Win With People: How To Make Others Feel Like A Million Bucks
Author: John C. Maxwell, Les Parrott
Get this Free Audiobook from Audible
Get it from Amazon
Book size: 184 pages
About Author:
Before talking about "25 Ways To Win With People Summary", let's talk about the book author, John C. Maxwell and Les Parrott. PH.D. John Calvin Maxwell is an American author, speaker, and Pastor who has written books, primarily focusing on leadership. Titles include The 21 Irrefutable laws of leadership and the 21 indispensable qualities of a leader, winning with people etc., his books have sold millions of copies, with some of the New York Times Bestseller lists, Now let's talk about another co-author of this book Les Parrott, PH. D. is a bestselling author, professor of psychology at northwest university, motivational speaker, and an ordained Nazarene minister, he is also a founder of the Parrott institute of healthy relationships at Olivet Nazarene University, Parrott is an #1 New York Times bestselling author, he has written more than 55 books that includes everything from graduates textbooks to children's books, most of his books are in the self-help genre, his books have been translated into more than 24 languages and sold over 3 million copies.
Overview: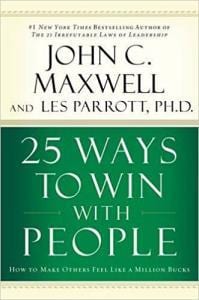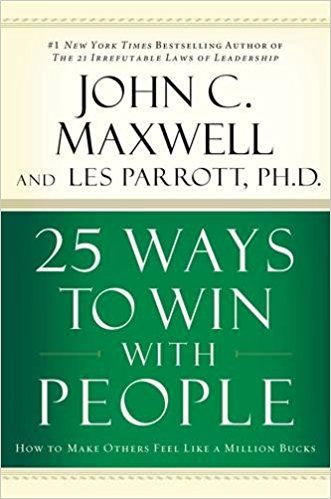 25 Ways To Win With People Summary is an easy to read book, it is very useful and knowledgeable book, It's a complimentary companion to the full-sized book, it's an idea for a quick refresher course on interpersonal relationships, This is a small book which contains 25 specific actions readers can take to build a positive, healthy relationship.
You must have read John C. Maxwell best-selling Winning with people, In that book author has shared knowledge about that Relationship are at the heart of every positive human experience, in his book winning with people Maxwell makes learning about relationships accessible to everyone, he has shares some principles which help you to make relationship better and helps you to transform them into relational dynamos.
Today's 25 Ways To Win With People Summary, WILL SHOW YOU SPECIFIC 25 WAYS, Which will help you to take action to build positive healthy relationship, 25 ways to win with people is a slim companion to Maxwell's bestselling winning with people, this volume aims to teach readers skills that will help them to improve their interpersonal relationships.
For 25 ways to win with people, Maxwell and Parrott joined hands, in this book Maxwell shares Practical examples of how he wins with people in everyday life and Dr. Parrott backs up those insights with evidence from recent psychological research.
Let's begin with 25 Ways To Win With People Summary:
25 ways to win with people is a book which embraces positivity and focuses on the growth and benefits of the reader, this is an easy to read book, this book contains 25 chapters and you can read whichever chapter you find interesting and useful for yourself.
Chapter 1: 

START WITH YOURSELF
Here Author says that you can't give what you don't have and your relationship can only be as healthy as you are, hence if you want to make people around you feel good or great then you first need to start with yourself, before making anybody feel good, then you must become a great human being first, you need to solve your life problems first and should look for improvement areas in yourself first.
Read More: Feel the Fear and Do It Anyway Summary & Review
Chapter 2: 

THE 30 SECOND RULE
Here author says that in the first 30 seconds of your conversation with someone, you must say something good or encouraging to them because once saying good and encouraging becomes your habit then people will light up when you will walk in any room.
AUTHOR Has also shared the way you can make it a habit, author says that to open calendar every day and look at the people you will be going to meet during the day, when you know whom you will be going to meet then plan something encouraging to say, it can be anything,  like can think about the thing which they have done for you or what you find good in them or for what things you are thankful to them or about their accomplishments etc.
Read More: Too Good to Leave, Too Bad to Stay (Book Summary / Review)
Chapter 3: 

LET PEOPLE KNOW YOU NEED THEM
Author says that every individual in this world likes to feel helpful and needed, hence in order to maintain a healthy and positive relationship with people you must think that who can be helpful in your life, who can support you throughout your life, whose support motivates you and once you know that then go to them and tell them how much they mean to you.
Read More: No Excuses!: The Power of Self-Discipline Summary
Chapter 4: CREATE A MEMORY AND VISIT IT OFTEN
Author says that you must create something memorable with people around you, make those memorable moments your memories, make those memories immortalize, save them by clicking pictures, and whenever you want to feel blessed and happy revisit those memories by seeing those pictures, show those pictures to people whom you had those wonderful memories, talk about those memories laugh about them, relive those stories together, this thing will make you feel happy and will create a strong bond.
Read More: How to Read a Person Like a Book Summary
Chapter 5: 

COMPLIMENT IN FRONT OF OTHER PEOPLE
Giving a compliment to someone is the best way to make someone or others feel good, But compliment becomes more powerful and genuine when it is given to someone in front of many people, when you compliment someone In front of public, then that person will do his best to uphold it, that person will always behave in line with that compliment, hence always try to compliment someone in public.
Read More: The Law of Success In Sixteen Lessons Summary
Chapter 6: 

GIVE REPUTATION TO UPHOLD
Here author says that giving a reputation to uphold leverages the commitment and consistency, Maxwell says that a great way to do it is to actually find a nickname for the person that will embody a quality they possess. And then use that nickname or repeat their quality often so that it will get associated with them.
Read More: Boundaries in Dating Summary
Chapter 7: 

ENCOURAGE THEIR DREAMS
Here author says that you must ask people to share their dreams with you, ask them what all challenges they face and try to overcome and ones they tell you then offer them genuine advise and give them some useful tips, always help someone with genuine heart never be disloyal with someone trust.
Read More: Maximum Achievement Summary By Brian Tracy
Chapter 8: 

PASS THE CREDIT ON TO OTHERS
Author says that great leaders become great only when they take the blame when things go wrong and give credit when things go right, unsuccessful people blame when things go wrong and take credit when they win, your life is 100 percent your responsibility hence take the blame for every wrong move and give credit to others whose support made you reach the top, this will help you in long-term success.
Read More: 12 Rules for Life Summary
Chapter 9: SHARE A SECRET WITH SOMEONE
When you share your secret to someone, then that thing will make other people feel special and close to you, you can make it more powerful by saying that I shared it only with you because I trust you, this will improve your relationship and can form a strong bond.
Read More: True Love: A Practice for Awakening the Heart Summary
Chapter 10: DO FOR OTHERS WHAT THEY CAN'T DO FOR THEMSELVES
Helping others to get their goals will for sure strengthen your relationship, and if you do so in a way that they couldn't have done by themselves, they will be even more thankful to you, hence help someone with a genuine heart.
Read More: The Relationship Cure Summary
This is the end of "25 Ways To Win With People Summary". These were 10 chapters out of 25, if you want to know all 25 chapters then do buy this book from the given links:
Get this Free Audiobook from Audible
Get it from Amazon
Thank you